Page 1 of 2
In the beginning
The Pyrates Confraternity was formed in 1952 by seven undergraduates of the University College, Ibadan in response to the prevailing predisposition, at the time, of notions of class privilege, elitism and indifference to the social realities of the nation, Nigeria, especially by students of middle class upbringing, scions of business tycoons and colonial aristocracy.
At that time, the University College, Ibadan was the premier institution of higher learning in Nigeria and a prominent replication of all that was undesirable about the colonised Nigeria. Amidst this were a handful of students from poorer backgrounds who either stuck doggedly to their books, looking forward to the day when the prize of an academic degree would compensate their present indignities, or strove assiduously to be admitted to the sophisticated circle of their flashier peers. So it was that the Pyrates Confraternity was conceived as an organisational response to the eradication of those various forms of institutional decadence that pervaded the students' environment at the time. It envisioned philosophies that were entirely non-conformist to the moribund conventional practices that fuelled these tendencies and was intended to develop as a movement to resist the continuing negative growth prevalent in elitist, middle class Nigeria.
It was against this background and to combat these negative tendencies that these seven students founded the Pyrates Confraternity (PC).
The original founding fathers, otherwise known as the Original Seven, are:
1. Wole Soyinka
2. Ralph Opara
3. Pius Oleghe
4. Ikpehare Aig-Imoukhuede
5. Nathaniel Oyelola
6. Olumuyiwa Awe
7. Sylvanus U. Egbuche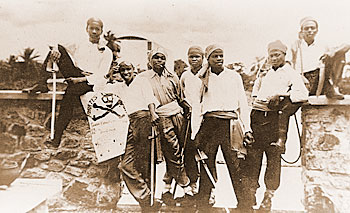 The Original Seven, at Tedder Hall Quadrangle, University College Ibadan. From left: Wole Soyinka,
Ikpehare Aig-Imoukhuede, Sylvanus Egbuche, Pius Oleghe, Nathaniel Oyelola, Muyiwa Awe, Ralph Opara
The names that appear beside these great names are their pyratical names, a concept that is at the very root of the accomplishment of organisational objectives. Explained simply, tribalism and nepotism in Nigeria, at the time and now, facilitated by easy identification associated with names from various tribes. To ensure the disappearance of tribal identity as a source of identification, everyone who joins the organization is given a name from which it is impossible to discern either tribal or even national identity. This practice also applied to places where the organization developed a presence.