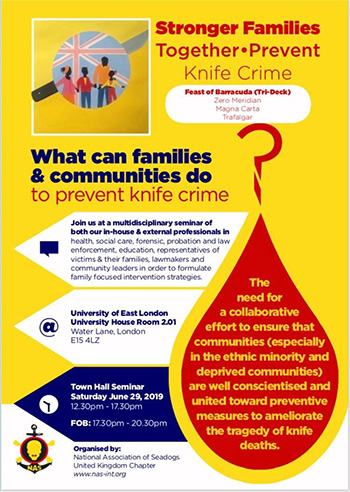 The knife crime initiative, a project mooted by National Association of Seadogs(Pyrates Confraternity) UK chapter, came about as a result of the rising profile of knife crime amongst ethnic minority children and adolescents in London and other cities across the UK.
This scourge bites close to home because we constitute part of the ethnic minority where this crime is rampant informing the decision to organise a sensitisation seminar/ town hall meeting. Participants include local politicians, the metropolitan police, health social services, local BAME NGO identified, human rights groups, London ambulance/ first aiders, schools officials, school board officials, legal experts, CHURCHES, crime reduction agencies, substance misuse and CMHT teams, PTAs/Parents, BLACK AND ETHNIC MINORITY WOMEN/WAGs and family members of victims.
Invited guest speakers include: Baroness Jumoke Ariyo (Co-founder of Mothers Against Knife Crime), Ms Kenny Onibokun (Ex-Police Officer), Priscilla Nwapo (Media Specialist), Jo Sidhu QC (Lawyer and Politician), Dr Dewunmi Ogunseye (Psychiatrist), Peter Molokwu (Victim), Olusola Omolaso (Dept of Probations) etc.
This promises to be a mid-blowing experience so join us on Saturday 29th June 2019 at the University of East London, Walter lane, London E15 4LZ. A tri-zonal Feast of Barracuda event will round up proceedings for the day!
TOGETHER WE CAN!!
Location
University of East London, Walter lane, London E15 4LZ