World AIDS Day, observed on 1 December every year, is dedicated to raising awareness of the AIDS pandemic caused by the spread of HIV infection. World AIDS Day elucidates on the epidemic and historically was one of the first Global Health focused initiatives.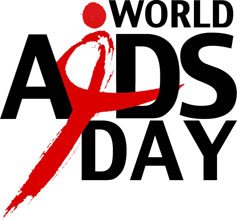 Government and health officials, the world over, observe the day, often with speeches or forums on AIDS-related topics. This global event supports those living with HIV/AIDS, remembers those who have passed and spreads education and awareness about prevention, transmission and treatment. HIV is still a highly stigmatized illness and is the target of discrimination on a local and global level.
This year's event is coming together under the World AIDS Day theme "Getting to zero". What does getting to zero mean? It means zero AIDS related deaths; zero new infections; and zero discrimination. Getting to zero will not happen overnight, but global initiatives such as World AIDS Day are working towards achieving this goal.
World AIDS Day was first conceived in August 1987 by James W. Bunn and Thomas Netter, two public information officers for the Global Programme on AIDS at the World Health Organization in Geneva, Switzerland.
Bunn and Netter took their idea to Dr. Jonathan Mann, Director of the Global Programme on AIDS (now known as UNAIDS). Dr. Mann liked the concept, approved it, and agreed with the recommendation that the first observance of World AIDS Day should be 1 December 1988.
The Joint United Nations Programme on HIV/AIDS (UNAIDS) became operational in 1996, and it took over the planning and promotion of World AIDS Day. Rather than focus on a single day, UNAIDS created the World AIDS Campaign in 1997 to focus on year-round communications, prevention and education.
In its first two years, the theme of World AIDS Day focused on children and young people. These themes were strongly criticized at the time for ignoring the fact that people of all ages may become infected with HIV and suffer from AIDS. But the themes drew attention to the HIV/AIDS epidemic, helped alleviate some of the stigma surrounding the disease, and helped boost recognition of the problem as a family disease.
In 2004, the World AIDS Campaign became an independent organisation
According to estimates by WHO and UNAIDS, 35.3 million people were living with HIV at the end of 2012. That same year, some 2.3 million people became newly infected, and 1.6 million died of AIDS-related causes. This statistics makes it one of the most destructive epidemics in recorded history.
In Nigeria, currently HIV prevalence among the general population is 3.6%, of which National median prevalence among pregnant women is 4.1%. This translates to about 3.1 million people living with HIV in Nigeria; about 300,000 new infections occur annually with people aged 15 – 24 contributing 60% of the infections. 1.5 million People living with HIV require ARVs using the new WHO guidelines, of this number, only 30% of people living with HIV who need antiretroviral (ARVs) have access to it, while less than 30% of pregnant women have access to PMTCT services.
UNAIDS has reported positive changes in statistics between the years 2001 and 2012. According to UNAIDS.org, in 2012, 35.3 million people are living globally with HIV/AIDS; however, the rate of new infections has dropped by 33% and new infections in children have decreased by 52% (UNAIDS.org).
Globally, of the 35.3 million people living with, 9.7 million are receiving ARVs (Antiretroviral) treatment, which, if taken as prescribed, can decrease the chances of passing on HIV significantly (UNAIDS.org). There has been a substantial increase in funding for HIV/AIDS related resources, enhancing the amount of research, education, and treatment availability on a global scale. Even with all the positive developments, the reality is, HIV/AIDS is still an epidemic. World AIDS Day decreases the gap in education and awareness, while supporting those affected, so we can get to zero.
Nigeria has the second-largest number of people living with HIV. The HIV epidemic in Nigeria is complex and varies widely by region. In some states, the epidemic is more concentrated and driven by high-risk behaviours; sexually transmitted infections (STI), clandestine high-risk heterosexual and homosexual practices, international trafficking of women, and irregular blood screening, while other states have more generalized epidemics that are sustained primarily by multiple sexual partnerships in the general population. Youth and young adults, especially young women are particularly vulnerable to HIV, with young women at higher risk than young men.
In addition to the high risk behaviours which contribute to the spread of HIV/ AIDS; the collapse of the Health Sector in Nigeria is a factor that has further complicated the fight against the HIV/AIDS pandemic.
In spite of the multifaceted challenges, the efforts being made by the Federal Government of Nigeria to contain the ravages of this scourge as articulated and implemented under the National Agency for Control of AIDS (NACA) must be commended. The National Agency for the Control of AIDS (NACA) has the mandate to co-ordinate the broad spectrum of the AIDS Response, interfaces with all the stakeholders involved in the fight against AIDS in Nigeria, as well as oversees policies, programmes and projects directed at the AIDS issue, provide leadership and monitor the progression of the epidemic.
The interventions put in place by NACA in response to the HIV/AIDS pandemic include but are not limited to the following: coordinating the decentralization of effective and integrated HIV services at PHC and community levels, strengthening prevention in states with high or rising prevalence among key populations, mainstreaming gender issues, empowerment programs and integration of Reproductive Health and HIV services.
To ensure the fight against the HIV/AIDS pandemic is sustainable beyond the activities slated to mark the 2013 World Aids Day, The National Association of Seadogs (Pyrates Confraternity) advocate for a coordinated effort to combat the situations and circumstances which drive women and girls vulnerability against the disease. They include but are not limited to gender inequality, lack of access to quality education, poor access to healthcare services and violence against women.
In addition, Health Care practitioners should adopt universal safety precautions to avoid health facility related transmissions. More awareness should be created on abstinence, being faithful to one's partner and condom use. The on-going efforts to prevent mother to child transmission through prevention of unwanted pregnancies, treatment of infected women with highly active anti-retroviral (HAART) drugs, safe delivery practices and post-exposure prophylaxis should be scaled-up. Free universal treatment of all HIV-infected persons as in Tuberculosis and Leprosy should be provided by government in partnership with non-governmental bodies. Adherence to HAART has reduced mother to child transmission to near zero.
NAS also urges the National Assembly to speedily pass the anti-discrimination bill to curb the stigmatisation of HIV infected persons. HIV patients who adhere to treatment with HAART soon after infection live long with normal lives.
Finally, we urge all to get tested as often as necessary and to start treatment EARLY if positive.