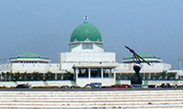 The National Association of Seadogs, Pyrates Confraternity, has expressed deep sadness over the chaos that has engulfed both chambers of the National Assembly recently over issues bordering on sharing of principal positions in both chambers.
Condemning what they described as a 'show of shame' displayed by these members, its President Worldwide, Prince Ifeanyi Onochie, in a press statement released in Calabar on Friday, wondered if the display of immaturity coming from National Assembly members was the change Nigerians voted for.
According to Onochie "How honourable could they now be if in the discharge of their duties of making laws for the betterment of society, they start exchanging blows instead of ideas," he pointed out that for Nigeria to move forward as a Nation, we must have the courage to distance the business of party politics from that of governance.
He called on the National Assembly members to concentrate fully on the reasons they were sent to the legislative houses, amongst which was to provide enabling laws that would guarantee quality leadership, development and nation building.
The Association urged the legislators to sheath their swords and digest the good counsel of the Speaker, Rt. Hon. Yakubu Dogara when he said: "The people of Nigeria want to hear us talk about poverty, insecurity, unemployment and as long as the house is divided and not united, we cannot achieve that. We have been down this perilous road before. I plead of us as Hon members and as leaders that all hands must be on deck to enable us achieve the desired unity that will help us move this house forward. That is the responsibility we owe."
Seadogs consequently implored the lawmakers to use the opportunity provided by the adjournment of plenary to resolve all issues and spare Nigerians this sordid spectacle of yet again watching them turn lawbreakers!
The Pyrates Confraternity was founded in 1952 by Nobel Laureate, Professor Wole Soyinka and six of his friends at the University College, Ibadan, now University of Ibadan.
Prince Ifeanyi OnochieNAS Cap'n
26th June, 2015