Dear sisters, brothers and friends,
We are all ware of the abduction of 234female secondary school pupils from Chibok in Bornu State by Boko Haram. We know that the girls who were taken into the dreaded Sambisa forest have not been found nor released to date. Consequently, and in conjunction with many concerned individuals and organisations across the world, we must lend our collective voice to the #BringBackOurGirls campaign.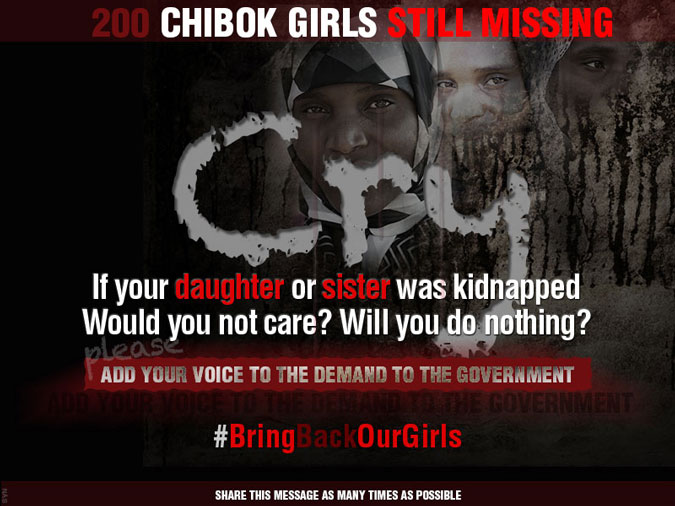 This brazen abduction may have happened thousands of miles away from us. However, these are young girls and they could be our family; our sisters, our daughters or our friends.
If your daughter or sister is among the kidnapped girls, will you do nothing? And will you not appreciate and support such a campaign demanding #BringBackOurGirls?
Please share this attached flyer as far and wide as possible!
Share as wide as possible and encourage friends to do so. Actively and massively share across the internet via Email, Facebook, Twitter, Linkedin etc.
Post it up on various Nigeria and international online forums especially on the Facebook pages of President Goodluck Jonathan, State Governors, Members of the National Assembly, Ministers, Nigerian politicians, Nollywood stars, musicians etc.
Like Wole Soyinka said recently:
"Boko Haram represents the ultimate Fatwa of our time. The question is does the sect's Fatwa represent the articulated position of the majority of Muslims in this nation? My reading over the last few years is an unambiguous no. We are undergoing an affliction that many could not have imagined about a decade ago. Let us confront the ultimate horror now. To remain inactive at this moment is to betray our children and to consolidate the on-going crimes against our humanity...We sent our children to school; we must bring them back to school."
#BringBackOurGirls
This flyer has been posted on the NAS Facebook page, you may visit and share from there.
Already, the #BringBackOurGirls is trending internationally and has many activists campaigning to get the government do all and whatever it can do to bring the girls back home. Your voice strengthens this campaign; our voice will help bring our girls back to safety.
A petition has been started by a lady, let us support. Please sign the petition here: http://www.change.org/petitions/over-200-girls-are-missing-in-nigeria-so-why-doesn-t-anybody-care-234girls
This is for humanistic ideals.